In West Africa, cocoa farms are producing fewer cocoa beans annually due to the depletion of soil nutrients and farmers' limited knowledge in proper management of cocoa trees. The decision by farmers to expand into forest reserves to cultivate new lands has accelerated the deforestation of forest lands but not the expected change.
The CocoaSoils Program aims to use Integrated Soils Fertility Management (ISFM) to rehabilitate existing cocoa farms for increased cocoa productivity and avoided deforestation.
The program wants to achieve this through cocoa intensification, which is a process by which factors of production like inorganic and organic fertilizers, improved planting materials, rainfall and favourable temperature conditions are combined to increase cocoa production on cocoa farmers.
Fertilizer application is an efficient way to restore nutrients to cocoa farms, but inorganic fertilizers are costly.  Although cheaper organic fertilizers can be produced from organic materials in the cocoa system to augment inorganic fertilizers, farmers lack the knowledge to make them.
The CocoaSoils Program being a Research for Development and a Partnership for Delivery Project, is working through scientists from Olam, Sucden, Kuapa Kooko, Mondelez, Cargill, Olatunde, Rockwinds and Tulip Cocoa, and using the extension channels of these private sector partners to disseminate the knowledge on ISFM and Good Agricultural Practices (GAPs) that is generated from the project to cocoa farmers in Cameroon, Côte d'Ivoire, Ghana, and Nigeria.
How does the extension mechanism work under the CocoaSoils Program?
 Eric Appiah-Gyawu, Kuapa Kooko, Ghana
It is 8:00 AM GMT in Nyameadom, a cocoa farming community in the Ahafo Ano District of the Ashanti Region in Ghana, Eric Appiah Gyawu, a 33-year-old extension agent with Kuapa Kooko, is about to meet a small group of cocoa farmers for a field training.
Today, he will teach farmers how to prepare compost tea, a liquified organic matter made from compost.
The materials for preparing  compost include cocoa pod husk, wood ash, charcoal dust, poultry manure, sugar, and other suitable organic materials available.
"I explain to the farmers that the solution is called compost tea because it looks like tea after preparation and  is good for the soil" Eric says.
Making compost with cocoa pod husk, for instance, is an efficient and affordable way for smallholder cocoa farmers to replenish lost potassium in cocoa soils.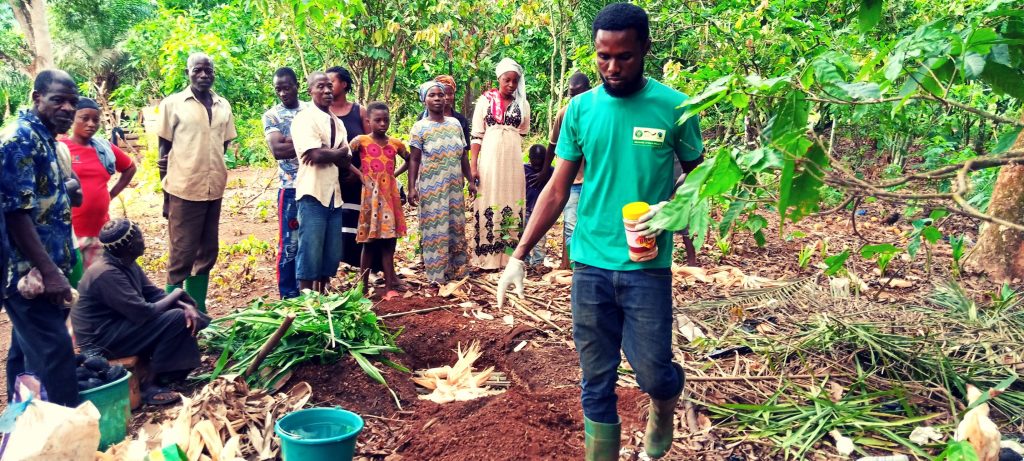 Malle Boris, Olam, Cameroon
Malle Boris is a 27-year-old extension agent from Ntui, the capital town of the department of Mbam et Kim in the Central Region of Cameroon. He has been working with Olam since 2019.
Boris Boris organizes farmer field schools in small groups for 250 cocoa farmers in Sanaga, Bavec, and Baboute villages of the department of Mbam et Kim. He sees group training sessions as an opportunity for farmers to learn about the latest knowledge in soil fertility management and build long-term support systems.
"When we meet farmers,  we encourage  them to learn from each other by sharing knowledge amongst themselves," he says.
Agents of Change
Eric and Boris are part of 625 extension agents of private partners who have trained 34284 cocoa farmers in Côte d'Ivoire, Cameroon, Ghana, and Nigeria under the CocoaSoils Program.
The training events, which encompass farm field schools, field demonstrations, role play, and sensitization, are conducted using recommendations from the CocoaSoils training manual on 'Managing Soils for Improved Productivity and Decreased Deforestation in Cocoa.'
The CocoaSoils Program developed the manual together with public and private sector partners to help extension agents to pass on to cocoa farmers the latest knowledge in Integrated Soil Fertility Management (ISFM) and Good Agricultural Practices (GAPs).
ISFM is a stepwise approach that combines improved varieties, canopy management and pest and disease control with targeted fertilizer applications complemented by the use and reuse of locally available nutrient sources and appropriate intercrops and shade tree management to increase cocoa production.
Eric -who has trained more than 400 farmers – believes that farmers have gained a deeper understanding of the benefits of soil fertility management and good agricultural practices to cocoa production and forest preservation. Applying organic fertilizers like compost tea and pruning cocoa farms three or four times a year are practices that extension agents encourage farmers to adopt.
"Some of the farmers who were hesitant to prune their cocoa trees more than once annually have seen improvements in their farm yields after adopting the recommendation," Eric says.
Training of Extension Agents
Before extension agents are deployed to cocoa farming communities to train farmers, they participate in Partnership for Delivery training workshops where they are trained on ISFM and GAPs based on the content of the CocoaSoils training manual.
Eric believes that the workshops have improved his knowledge in cocoa production.
"I learned how to make compost tea for the first time at the workshop. We were also taught that pruning the cocoa trees at least three times in a year can help to improve yields.
For Boris, the training workshops have transformed how he conducts field inspections and training.
"At the workshop, the trainers taught us to train farmers based on the needs of the farm and the farmer. When I visit a cocoa farm, I study every inch of the farm to identify problems or areas of neglect that need to be addressed for the farm to become productive" he says.